Klapty's Features for your virtual tours
Klapty's powerful features bring virtual tours to the next level
Upload Unlimited Virtual Tours
At Klapty, you can create, share, and publish unlimited virtual tours with any plan: Gold, Pro, and Free. In each virtual tour you can upload unlimited photos :)
Search & Find Virtual Tours
Find virtual tours near you: real estate, restaurants, automobiles, businesses, and more. Discover virtual tours around the world such as seasonal rentals, boats, museums, aerial views, and places of leisure, etc.
Private Or Public Virtual Tours
Only the people who have the link you've shared will be able to view your private virtual tour. The private virtual tour will neither be indexed on Google, nor on Klapty, nor publicly visible on your profile. The confidentiality of a private virtual tour will be respected.
Password Protect Your Private 360° Virtual Tours
In addition to making a virtual tour private, you can enhance its security by adding a password. For ultra-secret, sensitive, or confidential locations: protect your tours with a specific password.
Hotspots For Moving (Customizable)
Drag & drop the hotspots to link one photo view to another. Even better, you can also customize your hotspots.
Share And Publish Online
Copy/paste your URL to send it by email, WhatsApp, your real estate software, Messenger, Twitter, Instagram message, Snapchat, YouTube comments, Telegram, LinkedIn, Skype, and other social networks.
Embed To Website (Embed/Iframe)
Copy/paste the Klapty embed code and your virtual tour will be integrated into your website.
View & Create From Smartphones, Computers, And Tablets
View & create from smartphones, computers, and tablets (MAC and Microsoft computers, iOS and Android smartphones or tablets).
Customize Logos And Clickable Links
Add the logos of your choice to your virtual tours, as well as a web link to redirect your visitors from the virtual tour when they click on your logo or link. Use yours or your clients' branding in your virtual tours. You can customize each virtual tour with different logos. You can also create a preselection of logos for each of your clients.
Add A Floor Plan With Clickable Views
Enhance your virtual tour by adding a floor plan and placing the different photos onto it. If you don't have floor plan, you can use Magicplan to create one.
Information Hotspots (photos, URLs, Videos And Text)
For an interactive 360° virtual tour, add video links or URLs, photos, and text for when the visitor clicks on the "i" hotspots within your tour.
Share Existing Third-party 360°/3D Tours
Klapty is compatible with the following 360°/3D tours for your page and your portofolio: Google Street View, Cupix, Matterport, Captur3D, EyeSpy360, Panoskin, WP3DModels, Nodalview, Spectando, iStaging, Feelestate, Envisite, Spectando, Casatour, Previsite, Roundme, Immoviewer, Vieweet, Visitit, Viewmake, Meilleurevisite, Tourmake, GoThru, and more.
Contact Information And Backlinks (SEO)
Add your phone number, social media profile links, and website link.
Increase Visibility For Your Profile, Portfolio & Virtual Tours
Boost visibility with online presence for your profile, your company and tours: get more leads, sales, and enhance your brand image.
Like & Comment On Virtual Tours And Profiles
If you like a profile or a virtual tour, the owner will be notified and you will find what you've liked in your profile's "favourites" section. Create the world's biggest virtual tours community with us.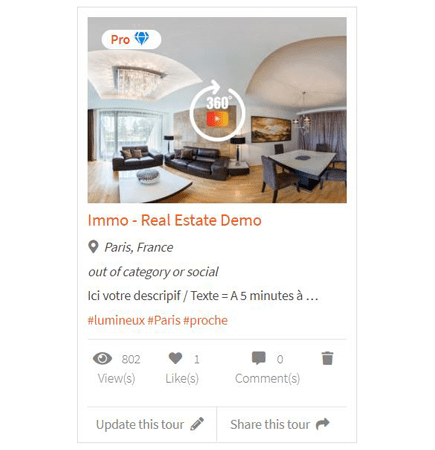 Update Or Delete Your Virtual Tour
You can update or delete your virtual tours any time. Important to know, when you update a virtual tour, the URL will still remain the same, so no worries. However, when you delete a virtual tour, it's gone forever so be careful!
Enhancements For Photos, Panoramic Photos And 360 Photos
The enhancement tool allows you to adjust exposure, contrast, highlights, shadows, white balance, and saturation for all your photos.
Classic 2D Photo Gallery Within The Virtual Tour
To further enhance your virtual tour, you can insert a selection of 2D pictures in Gallery.
Add Background Music Or Voiceover (MP3)
For even more interactivity: you can add commentary to your 360° virtual tours by recording your voice in MP3 format or you can add background music to give the viewer a total immersion.
Blurring Tool
The blurring tool lets to you hide confidential details such as faces, license plates, and artwork.
Set Zoom Level
Choose the zoom setup of your virtual tour's views.
Set Arrival View Angle And Auto-rotate ON/OFF
Choose the arrival view angle and decide to activate or deactivate the auto-rotate/animation feature for your photos.
Sell Your Services Online Or Hire A Professional
As a talent: photographer/ 3Ddesigner / floorplan maker, you can sell your services online on Klapty. If you do not want to buy a 360° camera, you can hire a 360° photographer to do the job. Same for floorplan creation or 3D rendering: you can simply hire a Pro
Live Virtual Tours Held Remotely
Conduct virtual tours by sharing your screen while guiding your audience live! From 1 person to 100+, you can use Zoom, Google Meet, Skype, or other platforms.
Virtual Reality Headset (VR) Compatible
Give your clients the best possible experience and let them see your virtual tours through a VR headset (Oculus GO or Google Cardboard)
Enable Or Disable The Tripod Nadir Logo
It's best to leave the logo activated if the tripod is visible, so you can hide it. In other cases, especially for aerial views, it's best to deactivate it.
Cloud & Secure Servers
Our servers are on the cloud and they are safe/secured (httpS). Your virtual tours will always be available online.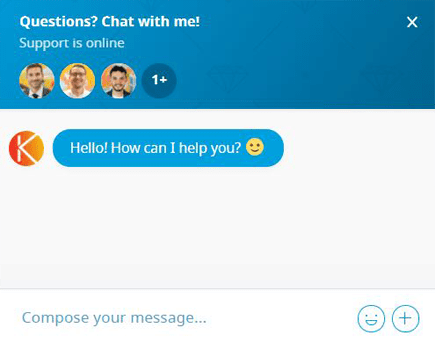 Online Human Customer Service Via Chat, FAQ, And Tutorial Videos
We are here to help! If you have any questions, feel free to come chat with us and ask! :)